The Croppin' Cabin has been sitting peacefully in the driveway...last week we spent nearly every night sleeping in it, enjoying the cozy atmosphere and closeness that it offers. I haven't been scrapping in it because we've just been enjoying our yard and being outdoors so much, and we've spent the hot summer days at the park pool & at the library. We love the vintage Shasta, and we love our firepit and patio with the tiki torches & lights...but our little hearts desired something more...We knew we'd really like a pool of our very own.

On Sunday I heard from a neighbor that the easy-set pools were on clearance at Walmart. We've been admiring them for a while now...hoping to find one on sale. We ran to the store, and they were out of the metal-frame 15x4 pools, so we bought the 13x3.5...we decided the metal-frame was sturdier than the easy set, and it did have better reviews.

Monday morning we made another trip to the store for some heavy-duty tarps to lay under the pool, and I mowed the lawn and we started clearing the flatest spot in the backyard. The kids helped take parts out of the box and assemble the frame, and we were up & filling in an hour or so. It took about 8 hours to fill...I filled it 3/4 of the way on Monday, and then finished filling Tuesday morning. Unfortunately Mother Nature decided to bless us with some heavy storms, wind & hail Monday night. The kids were at VBS & they had to move everyone to the basement, and Reta's tree left a big branch in my front yard. The pool was FILLED with tree bark & leaves...talk about Intro to Pool Cleaning 101.

Here is a picture about half filled...we just couldn't wait any longer!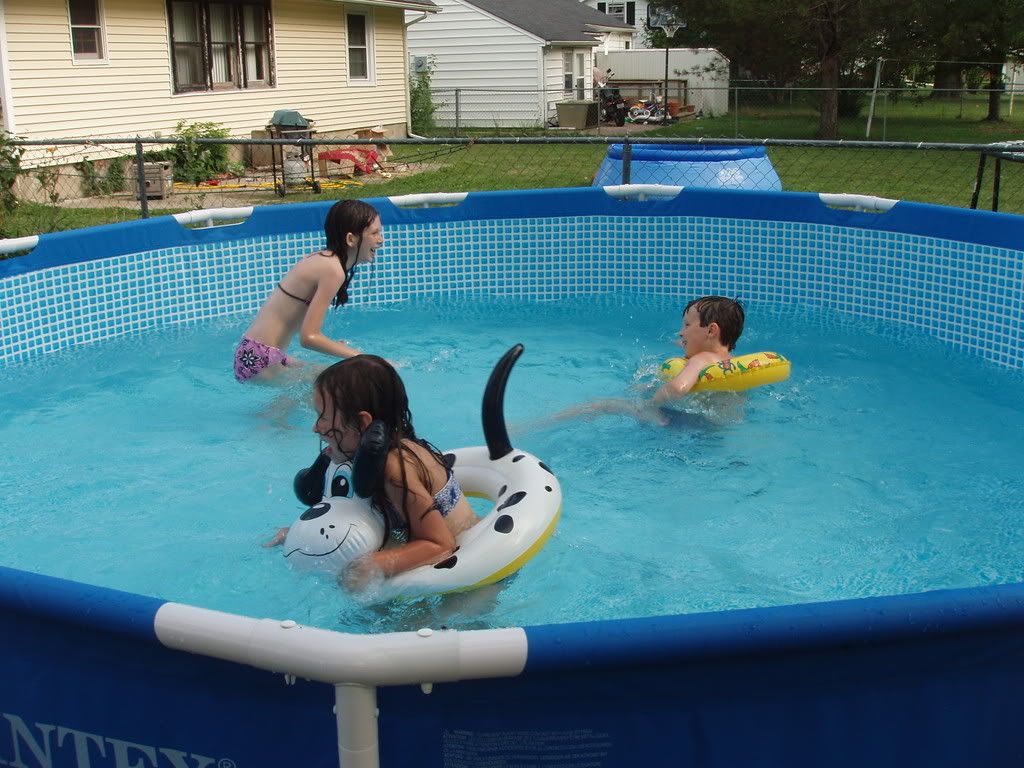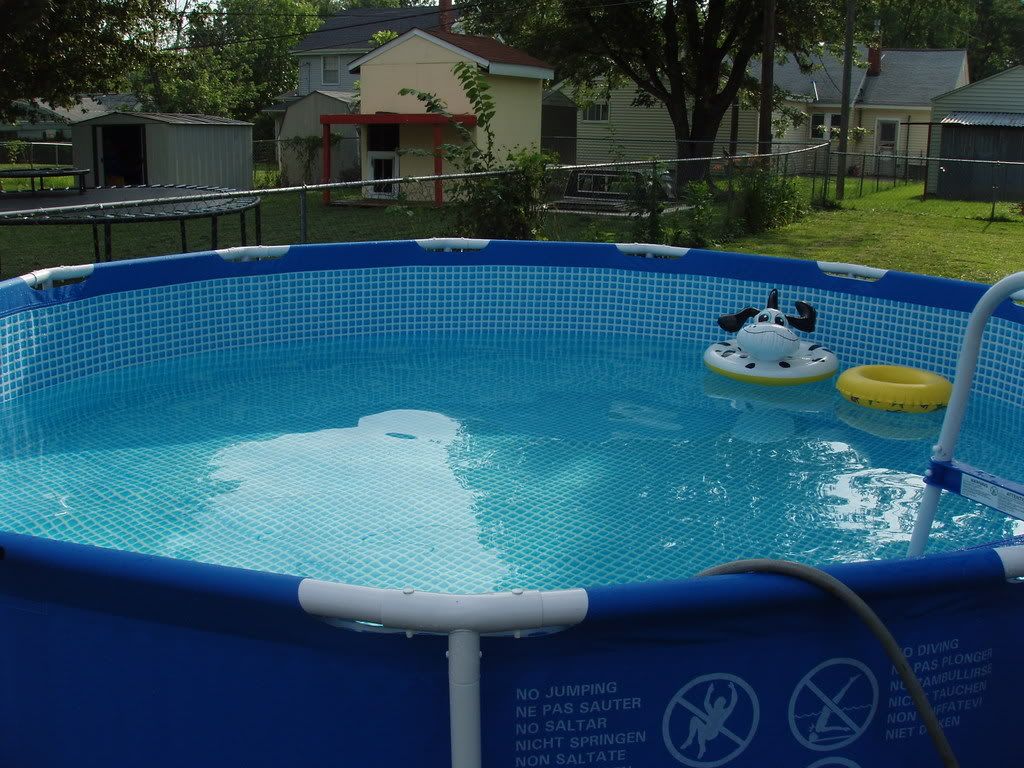 And here you can see the Shasta peeking out in the background...Hi, Croppin' Cabin!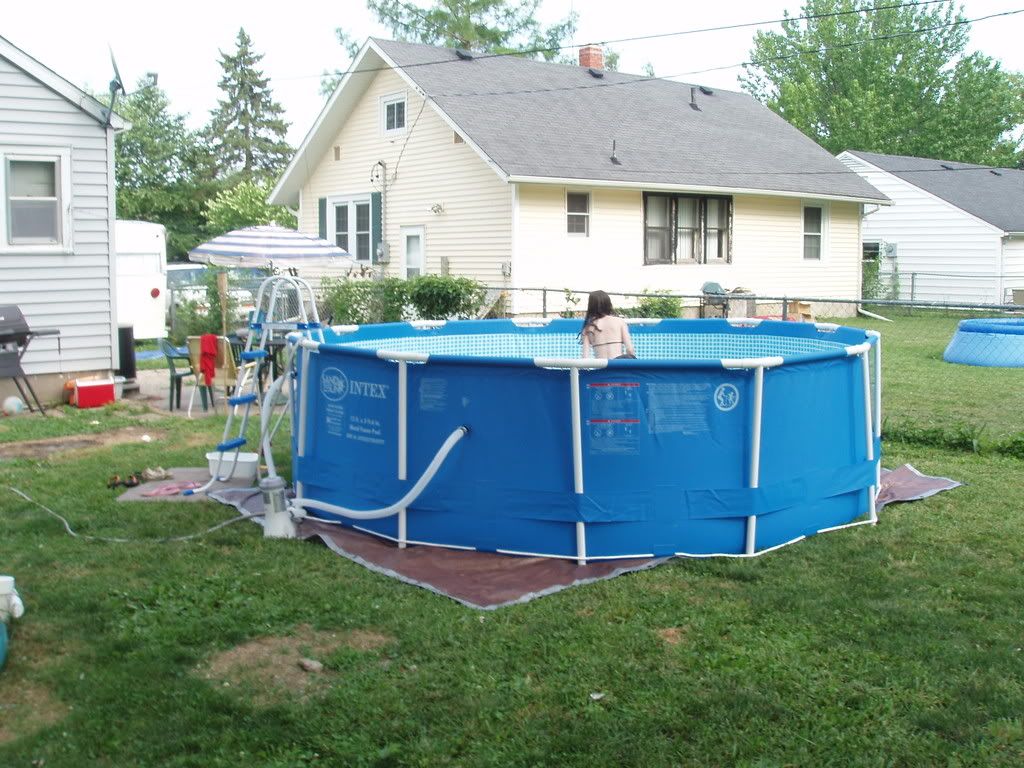 And here we are, filled up with all 2888 gallons of cool summer refreshment: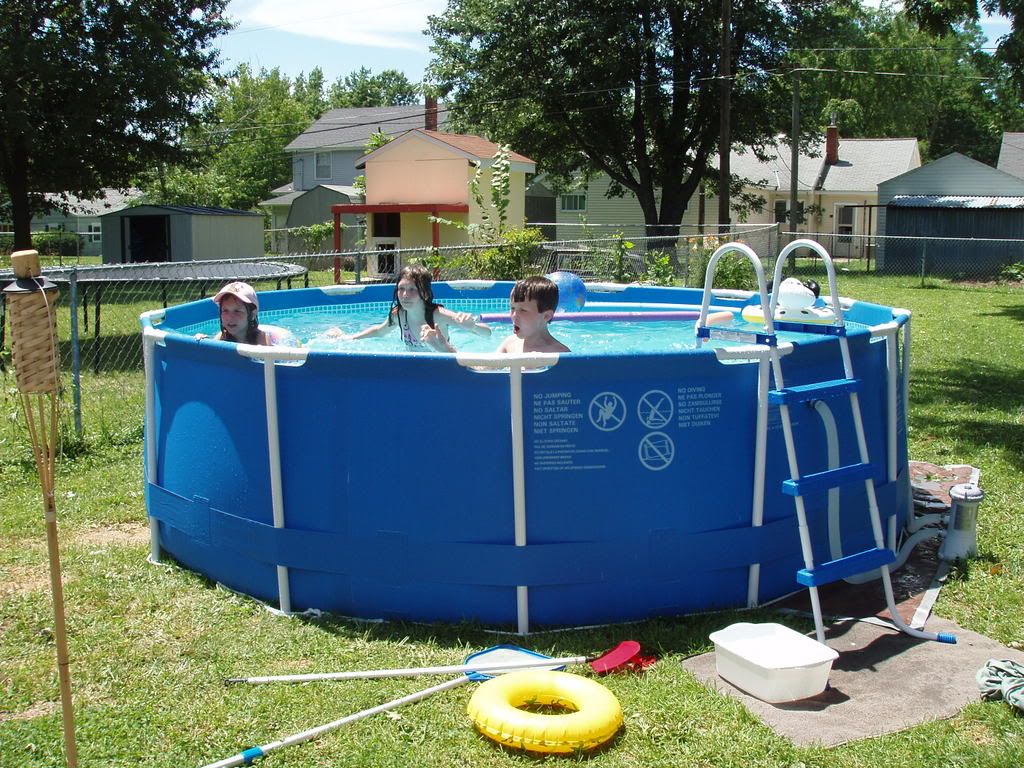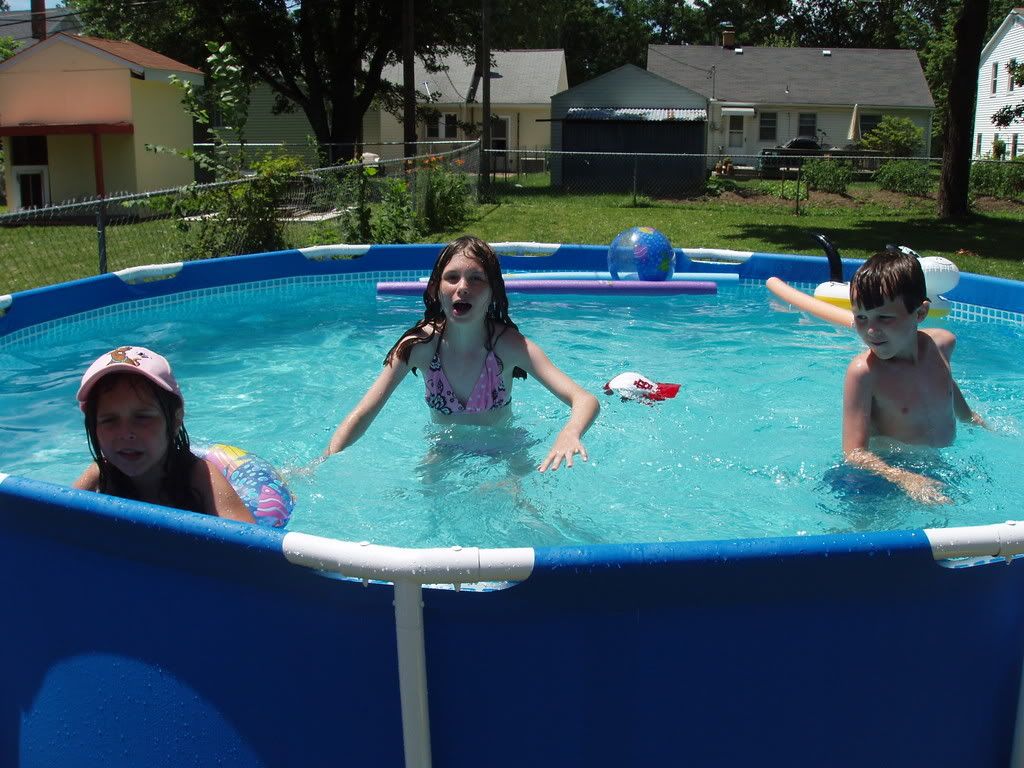 Yesterday was Day 2, and I was very pleased to see that after running the filter overnight and with no storm aftermath, the pool stayed remarkably clean. I bought a "Pool Care Kit" at Walmart for $20..it has a telescopic handle, skimmer net, and pool vacuum. I probably spent 30 minutes total yesterday skimming the bottom & surface of the pool, and I realized that I am grossly uneducated when it comes to pool maintenance & care. I picked up a "floating tablet dispenser" and some 3" chlorine tabs, as well as a package of pool shock. I think I need to go back & get a testing kit, but as of Day 3, the water was clear & clean.

It is raining & storming today, and supposed to rain the rest of the week into the weekend, so I guess this will also be a learning experience.

If any of you guys have tips & suggestions from your OWN experiences with these pools, I would appreciate hearing from you! I'm still toying with some ideas to add to the pool area...I've seen people put a rock area around the pool, but I'm afraid one would somehow slip underneath & give us a good-sized complication. :-) I realize the odds of that happening are slim, but yet...I wonder. It would definitely be easier to mow around. I've also considered adding a plastic mesh/net fence on stakes to help keep the toys/balls in the pool as that seems to be an issue, too. We'd also like to string lights & Off lanterns around as well. Suggestions or pictures?? I would love to hear from you!

In other news, we found someone on Freecycle with free firewood, so we spent most of yesterday afternoon loading wood and unloading wood. Then Reta's boyfriend cut down the branch from her fallen tree, so now we have a lot of firewood. It's all still wet, but it's nice to know we have some wood stocked up.